The 2012 Republican National Convention summarized in one image
Paul Ryan's love of Rage Against the Machine is amusing, because he is the embodiment of the machine that our music has been raging against for two decades.
Meanwhile, back at Romney's evil lair…
Paul Ryan has voted to ban same-sex marriage and adoption by gay couples, and he voted against repealing the "don't ask, don't tell" ban on gays serving openly in the military.
(Photo credit: Getty Images)
Romney supports amending the U.S. Constitution to ban same-sex marriage. And Ryan twice voted in support of the failed Federal Marriage Amendment in 2004 and 2006.
As a U.S. representative for Wisconsin's first congressional district, Ryan was more recently faced with a ballot question in his home state on whether to ban marriage equality. He again lined up against marriage equality when asked about the iniative during a February appearance on Meet the Press. 
Let 'em all speak!
"Let the buyer beware because this is the bedlam that could, just five months from now, be ruling the republic."

Brilliant.
No, Mitt, corporations are not people. People love, laugh, they have children, families, they breathe, they live, they get sick, they die… People are people, Mitt. Learn the difference.
Elizabeth Warren, discussing financial reform in a speech to Netroots attendees. (via
cognitivedissonance
)
Follow The Money
Compare these figures: Wisconsin gubernatorial election results (2010, top left, source; and 2012, top right; source) and spending by both campaigns (bottom; source).  
The maps are nearly identical, at least at the resolution of individual counties. If anything, some of the red counties became slightly redder.  The outcome in each case was essentially the same: the same people who voted for each candidate in 2010 are those who voted for them in 2012, with very little movement from one side to the other. In other words, no one's mind was changed, essentially. This should be a stark warning for those contemplating gubernatorial recalls in other states, in the future.
On the other hand, the lopsided spending in this election, combined with the above map, may be the most telling thing about the election. Walker outspent Barrett by a margin of something like 7 to 1, and the clear majority of Walker's money came from sources outside WI.  That means, after 19 months in office, Walker had to spend a TON of money to produce the same electoral result, effectively, as in 2010. One wonders, if the spending situation were different, might the electoral map have shifted enough to change the outcome? 
It begs another question and suggests something about the ripple effect in politics all over America. It can be argued that this spending situation was enabled largely by the now-infamous Citizens United (CU) ruling of the U.S. Supreme Court, because much of the spending in this election was by political action committees (PACs), and judging by media coverage, clearly favored Walker. In another era, that much influence by non-campaigns wouldn't have existed. Research suggests that in most cases, election victories are tied to spending, but that's not really shocking information. So, is Wisconsin then the first state-level casualty of CU?
Much of Walker's spending happened in the period before the Democratic primary; exit polling yesterday suggests that many Wisconsin voters had made up their minds by the start of 2012 how they intended to vote, in the sense that they were either for or against Walker — the choice of Democratic nominee evidently made zero difference in the outcome: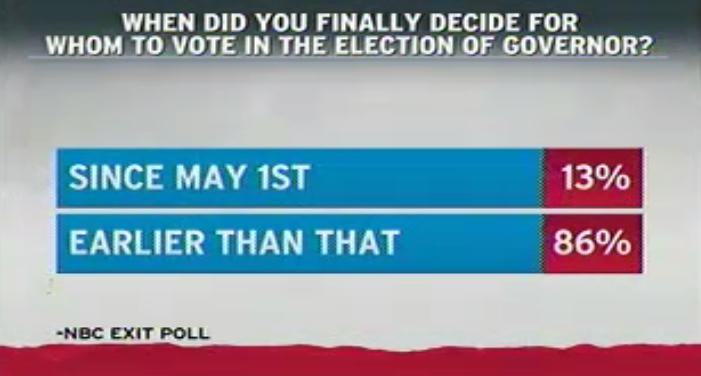 But while Walker spent furiously, the Dems were bashing each other up in the primary so that by the time the dust had settled in that contest, spending on their part made no difference. It was a structural advantage for the incumbent, regardless of party.

Lastly, despite his conciliatory tone last night, no one around Wisconsin expects Walker to offer anything more of an olive branch to the other side than the invitation he extended in his speech to legislators to come over to his house for beer and brats.  Wisconsin union membership plummeted in the months after the bill was signed into law stripping them of collective bargaining rights. That's no accident — if you can't go on strike, why bother with union representation? — and is exactly the outcome the GOP appears to have sought. Prior to CU, there were really only two significant political spending blocks: business and trade unions. Of those two blocks, only unions could be shut down by the legislative process. Combine massive outside spending with razor-thin splits in state houses, and unions could be legislated away for good, removing the last major spending obstacle for the GOP. In the post-CU world, spending is everything, and it fundamentally moves election results. If CU was the first frontal assault on democracy, then the kill-the-unions tack the GOP has taken at the state level is the sucker punch from which it might not recover.
An opposition muted by procedural hurdles (that means you, U.S. Senate) is one thing, but an opposition effectively legislated out of existence is another. If we want our elections to continue to turn on cultural alignments, stoked by the spending of progressively smaller groups subject to diminishing levels of transparency, then our society is doing a bang-up job. But let's drop the pretense that anything about the elections is free or fair.
This race in Wisconsin is the most important race in the country before the presidential election. June 5th. Republicans think they've got it in the bag. And if they do, they're on their way to a permanent structural advantage over the Democratic party for which there is no repair. There's no way to undo it. And that will affect every race in every partisan election on every ballot. It is less than two weeks until the vote in Wisconsin. At this point, the Democrats should be fighting for this like the existence of their party depends on it. Because it does.
"Joe Biden's announcement that he was OK with same-sex marriage may have pushed President Obama into seconding the motion a bit earlier than he had planned, but it doesn't appear to be hurting him politically. An NBC/WSJ poll shows that 17% of the voters are more likely to vote for Obama as a consequence of his announcement vs. 20% who are more likely to vote for Romney. Furthermore, Obama's announcement is driving public opinion. A new WaPo/ABC News poll shows that 53% of Americans now think same-sex marriage should be legal while only 39% now say it should be illegal. This is the lowest rate of disapproval ever recorded."
"What is truly amazing is that to a large extent, Bush's Brain, Karl Rove, made the Republican opposition to gay marriage one of the pillars of the 2000 and 2004 campaigns. That was not so long ago and now the Republicans are completely silent on the issue. After Obama gave his interview, no high-profile Republican went on the air to denounce him. The electoral potency of the issue is completely gone, and in a historically short time." 
(Source: electoral-vote.com)
I don't think [same-sex marriage is] a matter of civil rights. I think it's just a matter of whether or not we're going to adhere to something that's been historical and religious and legal in this country for many, many years. I mean, marriage has to have a definition. And we just happen to believe it's between a man and a woman… I think there's a big difference between people that have been murdered and everything that has come with Jim Crow than marriage between a man and a man and a woman and a woman.