I don't share their point of view and I'm not aesthetically close to what they do, and maybe they deserve some administrative punishment, but that they're in jail is totally illegal. And we have to fight against this situation and create social pressure – if we do nothing then any of us can find ourselves in this situation. It's very dangerous.
Russian actor and director Olga Darfi on the imprisonment without due process of Russian punk band Pussy Riot nearly four months ago for an unauthorized performance in an Orthodox church 
(Source: The Guardian)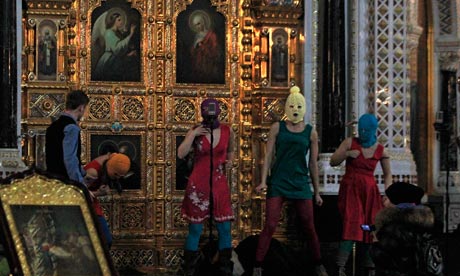 'At the final stakeholder meeting,' says [Glendale, AZ, orthopedic surgeon Eric] Novack, 'It was 50 representatives of the health-care industry against one person: me.' You can guess who won. 'One physician that was there, representing the Mayo Clinic, claimed that disclosing prices would confuse patients since they might choose cost over quality,' says Novack. 'This got a near-collective head nod from all.'

Wait. So if patients got to see how much health care actually cost, they'd be 'confused.' As compared to the clear-as-mud system we have today?

It's not a credible argument. When it comes to health care, patients will be even more demanding of quality than they are in other aspects of their lives. It's the providers who aren't providing high-quality care who should be afraid.
President Obama today announced that he now supports same-sex marriage, reversing his longstanding opposition amid growing pressure from the Democratic base and even his own vice president.
In an interview with ABC News' Robin Roberts, the president described his thought process as an "evolution" that led him to this decision, based on conversations with his staff members, openly gay and lesbian service members, and his wife and daughters.
"I have to tell you that over the course of several years as I have talked to friends and family and neighbors, when I think about members of my own staff who are in incredibly committed monogamous relationships, same-sex relationships, who are raising kids together; when I think about those soldiers or airmen or marines or sailors who are out there fighting on my behalf and yet feel constrained, even now that 'don't ask, don't tell' is gone, because they are not able to commit themselves in a marriage, at a certain point I've just concluded that for me personally it is important for me to go ahead and affirm that I think same sex couples should be able to get married," Obama told Roberts in an interview to appear on ABC's "Good Morning America" Thursday.
npr:
Climate, Controversy And Strangers On A Plane

He looked like a former linebacker, tall and solidly built. After stowing his wife's luggage in the overhead, he squeezed past me, sat down and looked straight at the astronomy textbook I was reading. "You're a scientist?" he asked. "Are you involved in that big controversy over climate?"

I looked into his face and could see he wasn't angry or hostile or combative. He seemed like a good guy and, by the way his wife gently rolled her eyes, I could see he liked to talk. So I took a chance and replied.

"What controversy?"

What followed was a long conversation, 30,000 feet above the American West, about a great and dangerous gap. On the one hand we spoke of science and what it looks like on the ground to those who practice it. On the other hand we waded knee-deep into the wreckage that is science in the sphere of politics.

From my seatmate's perspective the field of climate studies must be awash in controversy. Was the planet warming, or not?

(Image credit: Berkeley Earth)
There is a special place in hell for women who don't help other women.
Madeleine Albright, former U.S. Secretary of State (k
eynote speech at "Celebrating Inspiration" luncheon with the 
WNBA's All-Decade Team
, quoted in Mechelle Voepel, 
ESPN
, 
July 13, 2006)
If someone comes into your house, and says 'this color is awful and you need to change the shade' and goes on and on, you'd say 'fine, don't come back'… No matter how crappy it is, the country does not want to be treated like a basket-case.
Ben Barber, the former lead writer of the U.S. Agency for International Development (USAID) newspaper and former journalist, in an interview with Yahoo News this week, regarding American pro-democracy programs abroad
A great industrial nation is controlled by its system of credit. Our system of credit is privately concentrated. The growth of the nation, therefore, and all our activities are in the hands of a few men … [W]e have come to be one of the worst ruled, one of the most completely controlled and dominated, governments in the civilized world—no longer a government by free opinion, no longer a government by conviction and the vote of the majority, but a government by the opinion and the duress of small groups of dominant men.
President Woodrow Wilson, The New Freedom: A Call for the Emancipation of the Generous Energies of a People (New York and Garden City: Doubleday, Page & Company, 1913)
he likes 'em and he cannot lie.