I don't share their point of view and I'm not aesthetically close to what they do, and maybe they deserve some administrative punishment, but that they're in jail is totally illegal. And we have to fight against this situation and create social pressure – if we do nothing then any of us can find ourselves in this situation. It's very dangerous.
Russian actor and director Olga Darfi on the imprisonment without due process of Russian punk band Pussy Riot nearly four months ago for an unauthorized performance in an Orthodox church 
(Source: The Guardian)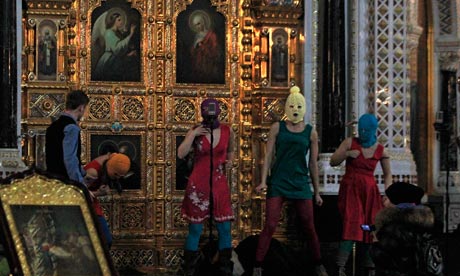 Yet the question needs to be asked: just how exceptional is a country that simultaneously launched two major wars of choice against pipsqueak opponents, spent over a trillon dollars on the effort, and actually managed to lose both of them? Or a country that operates its own offshore Gulag where it holds people for more than a decade without trial? Or a country which routinely tortures and abuses prisoners of war? Or a country which secretly arranges for kidnappings and deportations to foreign torture chambers? Or a country that sanctions assassinations against even its own citizens? Or a country which allows the banking criminals who crashed its economy to walk away scott free with hunderds of millions of dollars in taxpayer-funded bonuses in their pockets? Or a country in which 50 million people are at risk of dying from even relatively minor medical ailments because they cannot afford to go see a doctor? Or a country that makes filthy rich mega-stars out of the likes of Brittany Spears, Kim Kardashian, Snooki, Charlie Sheen, Lady Gaga, Adam Sandler, Justin Bieber and Katy Perry? Or a country in which less than one-third of its young adults even know what year it declared its independence?
"If we are going to adopt Chinese legal principles, we should at least have the integrity to adopt one Chinese proverb: "The beginning of wisdom is to call things by their right names."  We seem as a country to be in denial as to the implications of these laws and policies.  Whether we are viewed as a free country with authoritarian inclinations or an authoritarian nation with free aspirations (or some other hybrid definition), we are clearly not what we once were."
"Even as we pass judgment on countries we consider unfree, Americans remain confident that any definition of a free nation must include their own — the land of free. Yet, the laws and practices of the land should shake that confidence. In the decade since Sept. 11, 2001, this country has comprehensively reduced civil liberties in the name of an expanded security state… At what point does the reduction of individual rights in our country change how we define ourselves?"
Merry Christmas, U.S. Senate.
"Moving quickly on Christmas Day after the US Senate voted 86 - 14 to pass the National Defense Authorization Act of 2011 (NDAA) which allows for the indefinite military detention of American citizens without charge or trial, Montanans have announced the launch of recall campaigns against Senators Max Baucus and Jonathan Tester, who voted for the bill."
"Montana is one of nine states with provisions that say that the right of recall extends to recalling members of its federal congressional delegation, pursuant to Montana Code 2-16-603, on the grounds of physical or mental lack of fitness, incompetence, violation of oath of office, official misconduct, or conviction of certain felony offenses."
"The website Ballotpedia.org cites eight other states which allow for the recall of elected federal officials: Arizona, Colorado, Louisiana, Michigan, Nevada, North Dakota, Oregon, and Wisconsin. New Jersey's federal recall law was struck down when a NJ state judge ruled that '…the federal Constitution does not allow states the power to recall U.S. senators,' despite the fact the Constitution explicitly allows, by not disallowing ('prohibited' in the Tenth Amendment,) the states the power to recall US senators and congressmen."
"Montana would be the first recall drive to be launched as a result of the vote for the NDAA military detentions provisions. A number of Facebook pages appeared after the passage of the bill from locations across the country."
After passing a bill that allows for indefinite detention of US citizens, and remaining silent while congress works torwards censoring the Internet, the whitehouse posts this…